You can get 50% off adult public transport fares with the Young Adult (19-23) or Student Leap Card, and you can also travel around Dublin for just €1 with the TFI 90 minute fare.
The Young Adult (19-23) Leap Card is currently for all 19-23 year olds, but will increase to 19-25 year olds from early 2024.
The Student Leap Card is for full time third level students who are either 16-18 or 24 years old and above. Eligibility criteria are set out in more detail below.
You must apply online
If you are a Young Adult (19-23) you need to upload a photo of your passport or driving licence to prove your age. Your card will be posted to your nominated home address.
If you are a third level Student (16-18 or 24+) you will need show your Student ID and a valid proof of age ID at the nearest Student Leap Card agent to collect your card, after you have applied online.

If you've already applied for your card you can check on the order status, here
What services accept Young Adult and Student Leap Cards?
Half price fares apply to single journeys on the TFI network, including:
Bus Éireann
Dublin Bus
Iarnród Éireann (including DART)
Go-Ahead Ireland
Luas
TFI Local Link services
Kilkenny City bus
Route 139 (JJ Kavanagh and Sons)
Route 197 (Go-Ahead Ireland)
Route 817 (Bernard Kavanagh & Sons)
A range of commercial bus operators – Click here for participating commercial bus operators
How much does a Young Adult or Student Leap Card cost?
You must pay a €5 refundable deposit and add a minimum of €5 travel credit when purchasing the card.
What do I need to apply for a Young Adult Leap Card?
Before applying for a Young Adult (19-23) Leap Card make sure you have:
A valid Passport, Drivers Licence or Learner Permit, other non-standard documents may be accepted, view the full list here
The ability to enable your camera permissions
The card applicant is present
You have payment card details ready
A live selfie is required during the application process to validate the applicant's likeness against the ID document. This will be the photo used on the card. Once the application is verified we'll send your card by post, usually within 5 working days.
Who is eligible for a Student Leap Card?
Students must be able to verify that they meet these criteria:
Students must have a minimum of 16 hours of lectures/class time per week, and be enrolled in the course for a minimum of 6 months
Full time foreign students who meet the above criteria are also entitled to apply for the SLC whilst in Ireland
Students enrolled as trainee Accountants (ACCA, Institute of Chartered Accountants in Ireland), trainee Solicitors registered with the Law Society, full time SOLAS trainees/students and full time PLC students are also considered eligible
Students of on-line courses are not eligible to apply for the SLC, unless they meet the criteria set out here
Students may be required to produce further evidence of eligibility (i.e. letter from college/institution)
I'm a 16-18 year old. Should I get a Student Leap Card or a Child (16-18) card?
If you are aged 16-18 and in full-time third level education, you now have a choice of TFI Leap Card types. Usually, can get the cheapest fares with the Child 16-18 Leap Card. However, if you use commercial bus operators you may be better off using a Student Leap Card on their services, as participating operators are giving cheaper student fares.
Child Card 16-18yr old
Available to all 16-18 year olds
This card gives the Child fare on eligible public transport services, including: Dublin Bus, Go-Ahead Ireland, Luas, Bus Éireann, TFI Local Link, DART and Commuter Rail
Card expires on your 19th birthday
Card is posted to your address following online application
Student Card
Available to 16-18 year olds (and 24+) in full-time third level education, including further education and training
This card gives the Young Adult/Student fare on public transport services, including: Dublin Bus, Go-Ahead Ireland, Luas, Bus Éireann, TFI Local Link, DART and Commuter Rail
This card also gives 50% off fares on participating commercial bus operators
Card expires at the start of the following academic year (September)
Card must be collected at a participating Student Leap Card agent within 14 days of online application, however if you have completed the remote verification process with Trinity SU and have paid the postage fee, you do not need to attend the agent again, your Student Leap Card will be posted to you.
When collecting your Student Card, you must provide your Student ID as well as a valid proof of age ID.
Most people will only choose to get one card but you may apply for both cards depending on your travel needs.
Where to collect your Student Leap Card?
Student Leap Cards must be ordered online. You must then go to one of the following Student Leap Agents to verify you are an eligible student and collect your card. If you cannot locate a Student Leap Card agent near you, please click here for further options.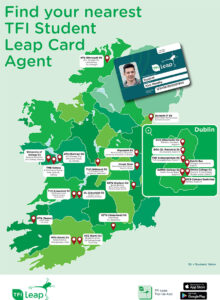 ATU (Donegal) Students' Union
ATU Donegal SU, Letterkenny,
Co. Donegal, F92 FC93
Service available to ATU Donegal students only
ATU (Galway) Students' Union
ATU Galway City, Old Dublin Road,
Co. Galway, H91 T8NW
DCU (Glasnevin) Students' Union
The Hub, Glasnevin,
Dublin 9, D09 PH2K
DCU (St.Patrick's) Students' Union
Drumcondra, Dublin 9, D09 Y0A3
Dublin Bus
59 Upper O'Connell street,
Dublin 1, D01 RX04
Dundalk IT Students' Union
Dublin Road, Marshes Upper,
Dundalk, Co. Louth, A91 K584
Griffith College Dublin Students' Union
South Circular Road,
Dublin 8, D08V04N
Insync Naas
Canal Stores, Basin Street, Naas,
Co. Kildare, W91 F668
Maynooth University Students' Union
North Campus, Maynooth University,
Co. Kildare, W23 W6R7
MTU (Cork) Students' Union
Rossa Avenue, Bishopstown,
Cork, T12 P928
Service available to MTU students only
MTU (Tralee) Students' Union
Clash, Tralee,
Co. Kerry, V92 CX88
SETU (Carlow) Students' Union
Barrow Building, SETU Carlow campus,
Kilkenny Road, Carlow, R93 V960
SETU (Waterford) Students' Union
Cork Road, Co. Waterford, X91 VY9N
TMB Galway
2 Commerce House, New Dock Street,
Galway, H91 H998
Trinity College Students' Union
House 6, Trinity College Student Union,
Dublin 2, D02 FD37
TUD Grangegorman Students' Union
TUD Grangegorman, Dublin 7, D07 N6R2
TUS (Athlone) Students' Union
TUS Student Union, Athlone,
Co. Westmeath, N37 HD68
TUS (Limerick) Students' Union
TUS Student Union, Moylish Campus,
Co.Limerick, V94 PNY7
UCC (Cork) Students' Union
Student Union, 54 College Road,
Cork, T12 K8AF
UCD Campus Bookshop
Belfield, Dublin 4, D04 R7R0
UL (Limerick) Students' Union
Student Union, Castletroy,
Co. Limerick, V94 T9PX
University of Galway Students' Union
Áras Na Macléinn, University Road,
Galway, H91 RTR6
ATU Sligo Student Union
Atlantic Technological University Sligo, Ash Lane,
Sligo, F91 YW50
DFEI (Dun Laoghaire)
Dun Laoghaire Further Education Institute, Cumberland Street,
Co Dublin, A96 EP44