About TFI Leap Card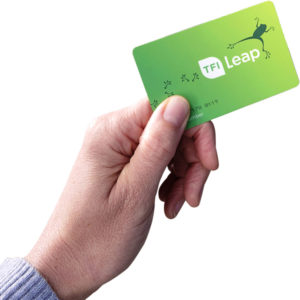 What is it and why should I get it?
A TFI Leap Card is a prepaid travel card that is the easiest way to pay your fare on public transport around Ireland. It is valid on most TFI services and commercial bus operators throughout Ireland. It's more convenient because you don't have to carry cash or queue at ticket machines and it can save you money because fares are usually up to 30% less than cash single tickets.
You'll also get other smart discounts like fare capping and the TFI 90 minute Fare (TFI 90) in Dublin.
Where do I get a TFI Leap Card?
You can buy a TFI Leap Card online here or purchase your card from a Ticket Vending Machine located at Irish Rail stations within Dublin's Short Hop Zone or at one of the hundreds of agents nationwide.
How do I register my TFI Leap Card?
Registering your TFI Leap Card protects your travel credit or tickets if your card is lost or stolen. Registering also allows you view your transaction history and register for auto top-up which means you'll never run out of travel credit and be stuck when you go to make a journey. You can also manage other TFI Leap Cards through your account (for example, your child's card). Visitor Cards cannot be registered.
Please note that once you report your card lost or stolen it may take up to 48 hours for it to be blocked.
Click here to register your TFI Leap Card now.
How do I top-up my TFI Leap Card?
The most popular way to top-up your card is to download our Leap Top-Up app for free and use it to add credit when you like, check your balance and collect tickets
At TFI Leap Card outlets
At Luas, DART and commuter rail ticket machines
On board selected bus operators
Use Auto Top-Up for regular top-ups to be debited from your bank account
Online at leapcard.ie, but please note if you top-up online, you still have to collect your travel credit or ticket at either a TFI Leap Card outlet or another nominated load location.
Ok, I'm ready. How do I use my TFI Leap Card?
For train and Luas: touch on AND touch off
Bus: touch on at the start of your journey only
How much are TFI Leap Card fares?
TFI Leap Card fares are usually up to 30% cheaper than cash. You can find out more information on TFI Leap Card fares here.