Let's talk about TFI Leap Card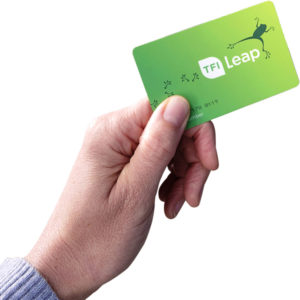 What is it and how do you use it?
A TFI Leap Card is a prepaid travel card that is the easiest way to pay your fare on public transport around Ireland. It is valid on busses, trains, DARTs and Luas trams in and around Dublin, Cork, Galway, Limerick, Waterford, Sligo, Athlone, Kilkenny and Wexford city and town services throughout Ireland. It's more convenient because you don't have to carry cash or queue at ticket machines and it can save you money because fares are usually up to 31% less than cash single tickets.
You'll also get other smart discounts like fare capping and the TFI 90 minute Fare (TFI 90) in Dublin.
To make travel even more convenient, TFI Leap Card holders can use their card to pay for travel on participating commerical bus operators, including Aircoach, Matthews, Swords Express and many more.
How does it work?
Using your TFI Leap Card couldn't be easier. Buy a card online or in-store, top it up with travel credit or a ticket and away you go. If you're taking the train or Luas, just touch on against the validator sensor before you get on and touch off against the validator when you get off. Simple. On the bus, just touch on, not off. If you're making a short journey on Dublin city bus services, ask the driver to validate it (so you don't get charged the maximum fare).
Want to know more?
Get the Leap Top-Up app for Android and iPhone
Read tips on how to use your TFI Leap Card
Check out the FAQs
Contact us here
Get apps for topping up, planning your next trip or finding out when the next bus is due