Using your TFI Leap Card on DART & Commuter Rail
On Sunday November 28th, TFI Leap Card fares changed across Transport for Ireland services in the Dublin Area.
This means TFI Leap Card fares are changing on DART and commuter rail zones 1 to 4 in the Short Hop Zone, with the introduction of the TFI 90 Minute Fare (TFI 90) and a new short fare.
The new TFI 90 fare now applies to most journeys and includes the option to transfer between Dublin Bus, Luas and most DART, commuter rail (zones 1 to 4 in the Short Hop Zone) and Go-Ahead Ireland services in Dublin. To avail customers simply need to touch on their last journey within 90 minutes of the first.
TFI 90 combines what was formerly the 2-4 zone fare structure, is just €2.30 for adults and students when using their TFI Leap Card during a promotional period and only 80 cent for children up to and including 18 years.
The new 90 minute boundary includes the original zones 1 to 4, covering stations as far as Rush & Lusk to the north of Dublin city, Bray to the south, Hazelhatch to the southwest, Maynooth to the west and M3 Parkway to the northwest.
There is also a short fare for single trips up to 3km. The new short adult fare of €1.60 replaces the previous 1 zone fare.
Existing 5 & 6 zone fares remain unchanged, with the added benefit of free transfer within 90 minutes. For more visit irishrail.ie.
| | | |
| --- | --- | --- |
| | Adult Leap | Child Leap |
| Short Fare | €1.60 | €0.80 |
| TFI 90 Minutes Fare | €2.30* | €0.80 |
| Zone 5 | €3.80 | €0.80 |
| Zone 6 | €4.90 | €0.80 |
*This fare will apply during a promotional period to the end of March 2022 after which the fare will change to €2.50.
DART and Commuter Rail services (Short Hop Zone):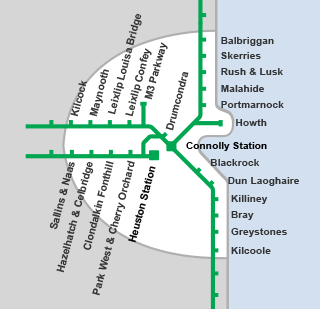 Cork Commuter Rail services (Cork – Cobh/Midleton):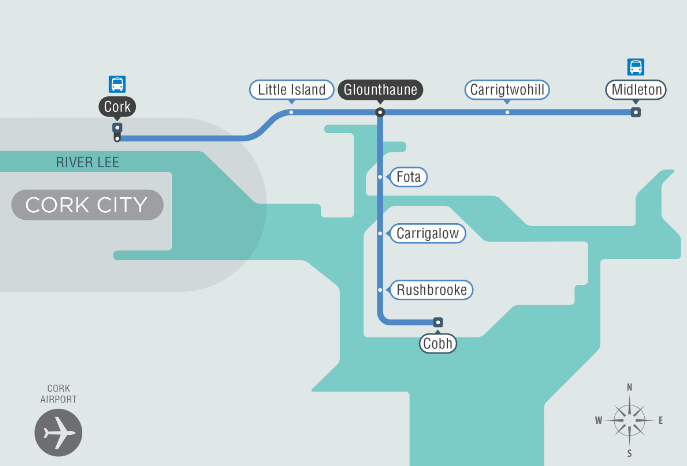 Please note: TFI Leap Card cannot be used on intercity train services. It can only be used to travel on train services within the regions illustrated above.
Using your TFI Leap Card on train services
| | |
| --- | --- |
| | When travelling by rail with your TFI Leap Card, touch your card on and off the Validator / Gate when entering and exiting the station or platform. |
| | You will hear a tone when you have successfully touched on and off |
| | Note: A default fare is deducted from your Travel Credit when you Touch-On.  When you Touch-Off the appropriate amount is refunded to your card.  If you forget to Touch-Off, the default fare will be the final fare charged for the journey. |
You can check your Travel Credit balance and Top-Up your TFI Leap Card at ticket machines in stations in Dublin (Cork coming soon).
Visit www.irishrail.ie for more details about using your TFI Leap Card on train services.